The Romanovs of Russia were the most successful dynasty of modern times, at one point ruling a sixth of the world's surface. How did one family turn a war-ruined principality into the world's greatest modern empire? And how did they lose it all?
On May 5, the Center on Global Interests and the Russian Cultural Center in Washington, DC, hosted a discussion on the rise and fall of the Romanov dynasty with British best-selling author and historian Simon Sebag Montefiore, author of the new book, The Romanovs: 1613-1918.  The discussion was moderated by Anton Fedyashin, Director of the Carmel Institute for Russian Culture and History at American University. 
About the Speakers:

Simon Sebag Montefiore is a bestselling historian and novelist, whose books have been published in mre than forty languages. He read history at Gonville and Caius College, Cambridge University, where he received his Doctorate of Philosophy (PhD). His book Catherine the Great and Potemkin was shortlisted for the Samuel Johnson, Duff Cooper, and Marsh Biography Prizes. Stalin: The Court of the Red Tsar won the History Book of the Year Prize at the British Book Awards. Young Stalin won the Costa Biography Award (UK), the LA Times Book Prize for Biography (US), Le Grand Prix de la Biographie Politique (France) and the Kreisky Prize for Political Literature (Austria). Jerusalem: The Biography was number one non-fiction Sunday Times bestseller and a global bestseller and won The Book of the Year Prize from the Jewish Book Council (US). 

Anton Fedyashin is Director of the Carmel Institute for Russian Culture and History, and Associate Professor of History at American University. He received his BA from St. John's College in Annapolis, MD, where he studied the Great Books. He completed an MA at Harvard University in Russian, East European, and Central Asian Studies and went on to defend his doctoral dissertation at Georgetown University. Before coming to AU, Dr. Fedyashin taught at Georgetown, Loyola (Baltimore), and New York Universities. His most recent book is Liberals under Autocracy: Modernization and Civil Society in Russia, 1866-1905 (University of Wisconsin Press, 2012). He is currently working on a book about the Cold War and the spy novel.
About the Book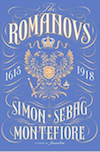 "The Romanovs brings Russia's imperial family to life. Drawing on new archival research, Montefiore delivers an enthralling epic of triumph and tragedy, love and murder, encompassing the seminal years 1812, 1914 and 1917, that is both a universal study of power and a portrait of empire that helps define Russia today." Available in hardcover in the United States May 3, 2016.